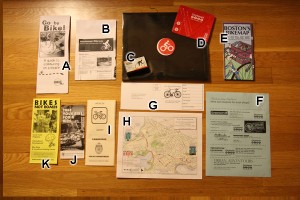 My favorite packet! Oh no, not the least bit biased.
A: Go By Bike pamphlet from MassBike.org. Why bike, types of bikes, equipment list, etc. Back side includes diagrams of bicycle laws and tips on avoiding collision.
B: Black and white photocopied version of a full color Minuteman Bikeway pamphlet. Photos are creepy, font way to small to read comfortably. Decent map of the whole path, though.
C: Patch kit! I'm impressed.
D: More CitySmart reflectors!
E: 9th Edition of Rubel's Boston Bikemap. This single item is worth ordering this kit.
F: More coupons:
Greenward: 15% off bicycle accessories…but expired on 8/31/10.
Broadway Bicycle School: 1/2 hour of free teaching w/a shop mechanic during shop hours and 10% off any new parts and/or accessories (this is a very, very good deal). Expires 10/1/10.
Menotomy Bikes: 10% off. Expires 10/1/10. This is one of my top three favorite bike shops in the area.
The Bicycle Exchange: $25 off new adult bike, $15 off on bike tune up, $10 off on helmet or u-lock, 20% off one accessory. Not clear if I can get ALL those or just have to pick one (I don't see the word 'or' anywhere). Excludes sale items. Expires 10/1/10.
Urban Adventours: 20% off regular 10am-2pm bike tours and hybrid rentals. Expires 10/1/10.
(Oops, Greenward!)
G: Cambridge Police Department Bicycle Registration Card. I'm very pleased to find this.
H: Bicycle Wayfinding Route map from CitySmart. Ok. I give up. I have no idea what a Wayfinding Route is. Not really sure what this map has that the Getting Around Cambridge map doesn't already show in more details, not to mention the Rubel map that is already in this packet.
I: Bicycle Safety pamphlet from the Cambridge Police Department. I'd really like it if Cambridge officers would please ticket according to these laws that they're handing out.
J: Take Your Bike for a Ride pamphlet from the MBTA, with info on bike rules on various transportation modes. The back shows photo and description of how to secure a bike to a bus equipped with bicycle rack, and tells you how they're not responsible for any damages.
K: Bikes Not Bombs pamphlet with info on what they're about, how to get involved, how to donate.
So, a final list of items that I find practical, useful, and plan to keep/use for at last a short while:
"watch for bikes" mirror sticker
CitySmart Reflective stickers from two different packets
Green ID holder
Walk Boston East Cambridge Map, for next time I visit my friends who live in that neighborhood
2010 CharlieCard discount book to flip through at least one more time (and then probably give away)
Getting Around in Cambridge map, plus distance guide overlay
Cambridge Police Department Bicycle Registration Card
Coupons for: Menotomy, Broadway Bicycle School, The Bicycle Exchange, and maybe Urban Adventours
Rubel's Boston Bikemap
CitySmart keychain
CitySmart pedometer
Patch kit
Also, I've used my tote for grocery shopping already.
You can pick which packets you want to receive and these few posts should help you decide.  If you're looking for one packet to order: Definitely the bicycle packet. The Rubel map and patch are really wonderful tools to have around as a cyclists in this area.
Seriously, North Cambridge residents should get your tote now.  Took me two whole minutes to order. It is FREE.  Deadline is October 1st.

FREE. Thank me later.