So. Many. Hills.
We climbed them. On 100lb chopper, tall bike, fixie with trailer, many single speeds. Add some fancy lights and speakers, + a whole lot of questionable/recycled components, and you have a SCUL Intergalatic Mission.
My ship (that's SCUL speak for 'bike') sports a banana seat (ow) with tall sissy bars, carrying cargo that no doubt created way more drag than I needed. I am grateful to have threespeeds to spare this year (last year I went 109 miles on a single speed, albeit on way flatter terrain), and definitely used all three (particularly the lowest gear).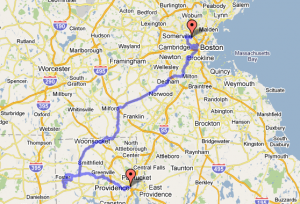 Lost:
1. important components of my bubble dispenser
2. one of my two favorite hair clips of all time.
Gained:
1. new respect for my thighs and the subsequent "good job, legs!" dance
2. some bragging rights.
Totally worth the trip.