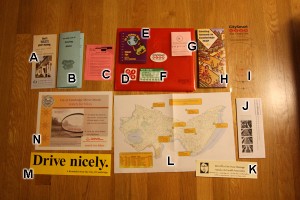 A: Pamphlet: from Cambridge Energy Alliance on how they will help make your home more energy efficient.
B: Pamphlet: "The REAL cost of Driving Alone," from City of Cambridge, opens up to a bunch of fill-in-the-blanks math problems, plus a card on "6 Smart Driving Tips" (keep tires inflated, turn off engine when idling, etc)
C: Print out from Same Roads. Same Rules., Motorists tips on one side and cyclists tips on the other.
D: CitySmart reflective stickers!
E: Pamphlet: Climate Tips from the City of Cambridge
F: Card: Walk/Ride Day Dates (last Friday of every month) from the Green Streets Initiative.
G: Coupon: 10% off any class package, first time students get one week of complementary yoga to Baptise.
H: Getting Around in Cambridge Map. An excellent map with lots of info on alternative transportation options, plus additional tips printed on the flip side.
I: A thing to go with the map to trace out time, mode of travel, and distance covered. For example: inner most circle is 5 minutes by walking, marks 1/4 mile.  Pretty right on (shows that they considered possible red lights!).
J: Pamphlet from Livable Streets Alliance. (HI JACKIE!)
K: Coupon: $10 off a one hour message at Hands-On Health Associates, with their phone number (no website!)
L: Cambridge Farmers Market Map for 2010! Legend shows: day, time, neighborhood,  specific location, and 2010 dates. Another thumbs-up-map. AND it includes Davis Square and Union Square Farmers Markets even though they're not technically in Cambridge, but are convenient for North Cambridge and East Cambridge residents, respectively. Well done.
M: Bumper sticker. (I had wished for a joke in that small print)
N: City of Cambridge Mirror Decals! Another clever idea. Static cling sticker to be placed at the bottom of the rear view mirrors. I'm a fan!
Besides the various stickers, I very much dug the Yes/No photo spread on the flip side of map (H). Check it out: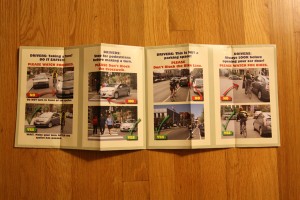 (If only I had a buck for every time I've told a driver "Not a parking space!"…)