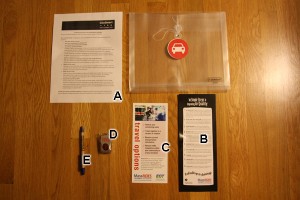 The Car Packet was the Most Boring.
A: Note on tips for carpooling, things like "don't be late," "communicate," and (basically) "how to play nice."
B: 10 Simple Steps to Improve Air Quality pamphlet, from MassRides. In Spanish on the reverse side.
C: Travel Options pamphlet from MassRides. List of services front/back.
D: CitySmart keychain + red LED light.  Made in China.
E: Second useful things in one small packet: pretty good pen, also from MassRides.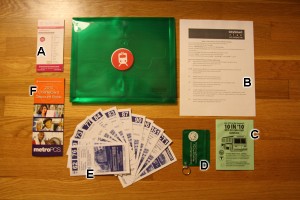 T Packet:

A: Schedule of Fitchburg Line, goes right through Porter Sq. (N.Cambridge, where pilot program is in progress)
B: Good info on public transit in/around N. Cambridge, including: phone numbers, transit costs, and a complete list of buses that come through this area and where they start/end
C: 10 in '10 MBTA Bus Challenge, from The Green Streets Initiative. Ride 10 different bus lines in Cambridge in 2010 and record them on this card, or online, and then join their awards celebration in Jan 2011. (Good idea, but I think I'll just ride my bike.)
D: ID/card holder from the City of Cambridge thanking me for using public transportation (you're welcome!)
E: All the area bus lines' schedules (effective through September 3, 2010)
F: 2010 CharlieCard Discount Book. Pretty beefy list, and I had no idea flashing the CharlieCard can give me discounts. (If only I can trade in the discount for a cheaper card, that'd be swell.)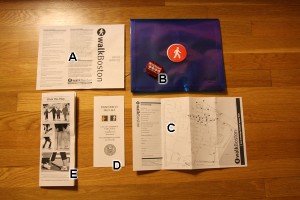 Pedestrian Packet: Ok, this packet is in the running for Most Boring.
A: About Walking pamphlet from walkBoston. Tips, facts, insights, and laws for pedestrians.
B: Totally redeems the packet: CitySmart to the rescue and includes a step-counter pedometer that I will figure out one day (how does it know!?)
C: a walkBoston map for East Cambridge. Curious. Will consult the T packet for a bus to E. Cambridge. (some neat historical buildings + info though! Would love one like it for N. Cambridge. Maybe the buildings here aren't as interesting.)
D: Pedestrian Signals pamphlet. Stuff your parents should have noted when you were 4-ish.
E: Walk this Way pamphlet from City of Cambridge, adapted from WalkingInfo.org.  Walking for fitness tips, safety tips for pedestrians, drivers, benefits of walking. Photo of cute dog.