Last weekend I got my free CitySmart kit.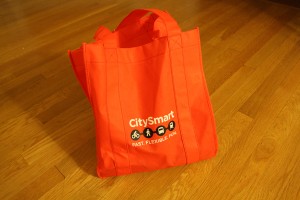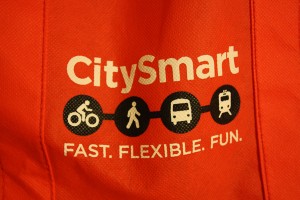 Today I finally dug in. This is what the City of Cambridge will send you as part of this pilot program, if you happen to live in N. Cambridge, if you happen to have seen the newsletter they sent at some point before today, and if you happened to remember to ask for it: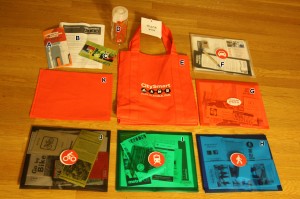 A: Cambridge Calendar of Events Fall 2010, including Ongoing Events, Special Events listed by months (Sept-Nov), and Places of Interest (I'd like to see recurring annual events, too, as semi-permanent-resident)
B: A note congratulating me on participating, inviting me to Park(ing) Day 2010 (highly recommended: 9/17)
C: A card about MetroPedalPower (MPP YEA – )
D: "Fast, Flexible, Fun" water bottle (heeheeehee their slogan sounds like a cheap date)
E: le tote
F: Packet re: Car stuff
G: Packet re:  stuff that didn't quite fit into other stuff but still cool to have
H: Packet re: Pedestrian stuff
I: Packet re: T stuff
J: Packet re: Bike stuff
K: (I took this out, laid it down, photo-d it, and then realized that it is meant to be a hard bottom for the tote)…..(The "Fast, Flexible, Fun" tote's hard bottom. HA.)
Anyway, CitySmart is
a pilot program to test the application of social marketing techniques on transportation choices. Based on successful implementation in Europe, Australia and the United States, we hope to achieve a shift of approximately 10% of single-occupant vehicle trips to more sustainable modes, such as walking, bicycling and transit.
Ordering was very simple and quick (online form here).  My tote was delivered right to my door as promised, by MetroPedalPower (HIBEEZWAX!). Here's MPP's recent shout-out re: CitySmart.
If you live in N. Cambridge and you have not yet ordered a kit, please do! More kits = more interest from residents = more support from Cambridge to fund projects like these. The kit is FREE! DEADLINE TO ORDER IS OCT 1 2010! The Fast, Flexible, Fun program is moving on after this month.