I wrote this in Feb 09, and never sent it. Recently I received news that I may have to attend a hearing (so my car insurance premium doesn't increase). A year later, I'm still dealing with Ares Geovanos' idiocy.
I had considered blacking out his name for his privacy. But what the heck, he messed up good, so this is now going onto the interwebs. Here's a letter to his parents:
Mr and Mrs. Geovanos:
I'm writing to you regarding a recent accident in Harvard Square, in which Mr. Ares Geovanos was involved.
My partner and I were returning from Southbridge, MA, celebrating an upcoming wedding. It was the first time we've used our car in nearly three weeks, but unfortunately public transit cannot take us to Southbridge. It was late, and it had been sleeting and raining all night.
As we stopped for a red light at the intersection of JFK and Mt. Auburn, we spotted Mr. Geovanos standing in a crosswalk on the far side of the intersection. He had a hand on (presumably) his bike, chatting with a friend, did not cross the street while he had the green light.
We were stopped behind an SUV, which was stopped behind a taxi. We were in the left lane on JFK, a two lane, one way street. As the light turned green for us, the taxi driver decided to make a right across one lane of traffic, creating chaos and confusion, blocking both lanes of traffic. The SUV swerved around the taxi to continue on JFK, and I followed, keeping an eye on the taxi in case it changes its mind.
Just as the SUV crossed the crosswalk, swerving to avoid Mr. Geovanos, we see him spit on the driver side window. Within the next few seconds, my attention was divided between going around the taxi and Mr. Geovanos, taking care not to hit either one of them. When I looked back to the SUV, it was too late – it had slammed on its brakes to a dead stop, and we slid right into its back bumper. This was followed by cheering and celebration from Mr. Geovanos and his group of friends.
We exchange information with the woman driving the SUV, who said that she had slammed on her brakes because she was startled by the pedestrian who spat on her window. We both identified Mr. Geovanos as the pedestrian responsible, and a Harvard University police officer near the scene apprehended him, then turned him over to a Cambridge Police officer, who provided me with your contact information.
In seeing his reaction to the SUV, I can only assume that Mr. Geovanos holds some unknown resentment toward the driver, or her vehicle. Both my partner and I are avid cyclists, and found his behavior to be irresponsible, dangerous. and disrespectful to others sharing the road, whether they're other cyclists, cars, or pedestrians.
I'd like share the details and consequences of Mr. Geovanos' seemingly harmless action.
The vehicle that was spat at:
2007 Cadillac Escala, luxury SUV
Kelly Blue Book value: 37,700 – 38,500
Gas mileage: 12 mpg city, 18-19 mpg highway
Seats up to 8
At the time of accident, this vehicle carried a driver only, with an empty trunk. According to the driver, she has made one payment on the vehicle, and it has already been rear-ended once.
Our vehicle:
2001 Ford Focus, hatchback
Kelly Blue Book value: 4,450 – 5,375
25 – 28 mpg city
31 – 36 mpg highway
Seats up to 4
Who we are: At the time of accident, this vehicle carried 2 passengers + heavy load in trunk/back seats. The car has been paid off and has never been in an accident. Between my partner and myself, we share 15 years of daily bicycle commuting, totaling over 30,000 miles of cycling.
The costs of the accident:
For the SUV driver: Perhaps minor adjustment to her insurance premium.
For us: paying for damages out of our pockets, plus the cost of SUV driver's deductible (insert costs here). The accident will also log up to 30 miles of carbon emission by our car, for repairs and inspections.
One last thing: in confirming your contact information, I inadvertently discovered that Mr. Geovanos had provided false information to the Cambridge Police Department, fineable in MA up to $500.
I will not be asking asking for reimbursement for the insurance adjustment made to our insurance policy as a result of this accident – an on-going cost – however, I do expect for Mr. Geovanos to take responsibilities for his action and cover the damages to both vehicles. I will be sending a bill of the total costs to this address (as well as his Montana address), as soon as it has been calculated. I will also provide receipts for proof.
To Ares Geovanos: please consider your actions carefully, next time you decide to purposefully obstruct traffic. You're very fortunate that the rest of us cared enough to protect your safety.
Sincerely,
—–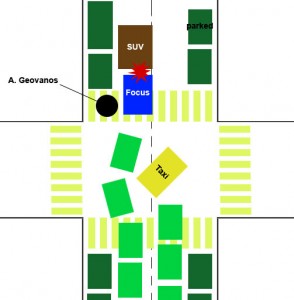 (For those of you that are curious – the damages to our car came to just over $2,400.)